Stop the damaging effects of foundation settling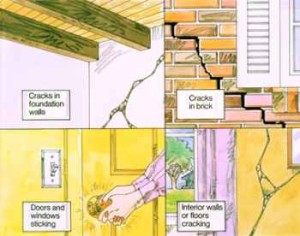 Sinking foundations, cracked and buckled walls and uneven floors are problems commonly faced annually by some quarter-million homeowners. Homes and other structures situated on unstable soils settle when their foundations are subjected to extreme moisture conditions or lack proper drainage. A shifting foundation may result in structural damage to your home and a loss of your investment.
Indications of foundation settling problems include:
• Foundation walls that are buckled or bowed
• Doors and windows that stick or don't open properly
• Cracks in foundation walls
• Cracks in exterior walls
• Cracks in interior walls and ceilings
• Sunken or buckled interior concrete floors
The CHANCE Helical Pier Foundation System offers a technically superior and cost-effective alternative to other remedial systems. Our system is backed by more than 80 years of structural engineering experience.
Our system may be installed only by contractors we certify. The load-bearing steel shafts are screwed into the ground independent of the structure and their bearing or holding capacity is verifed as the system is installed.
System advantages:
• A time-proven, versatile and technically sound system
• Lower cost – both for the system and its installation
• Faster installation than other methods
• Very limited excavation – site is minimally disturbed
• No heavy equipment required
• Installs in limited-access areas
• Used in new home construction to enhance foundation strength on sites with poor soil conditions